Derry health workers stage pickets: 'How much more cost of living crisis can we endure?'
Health workers have taken to the picket lines at Altnagelvin as part of a day long strike in pursuit of better pay and conditions.
Published 26th Jan 2023, 16:18 BST

- 4 min read
Members of the Unison, NIPSA and UNITE unions – from across a range of health directorates – took part in the industrial action on Thursday.
Roddy Lynch, joint chair of Unison's North West branch in the Northern Ireland Ambulance Service, said: "We're on strike along with all our NHS colleagues to look for a decent pay rise for all our staff and all our members.
"We've suffered a real terms pay cut over the last 10 to 12 years while MP's wages have gone up by almost £20,000. Staff are struggling and they've been absorbing this for years while prices remained sort of stagnant, but prices have gone so high at the minute that everyone is struggling.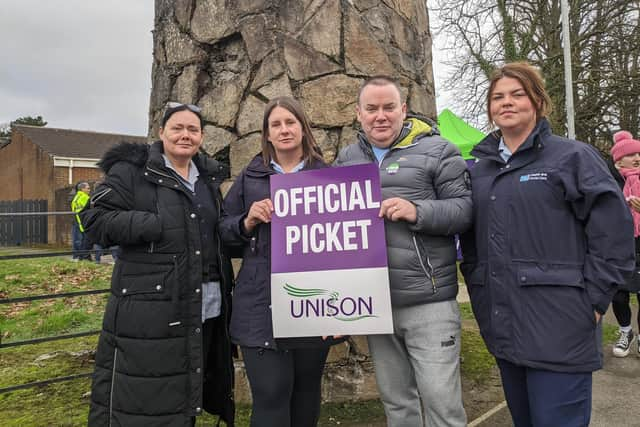 "We have staff here in the Ambulance Service who are saying that there's not much of a difference between what they're getting paid and what some people are getting paid for jobs in supermarkets and things like that.
"The amount of stress that our staff have to put up with - these are the same people the government were clapping through the pandemic. There are a lot of stressful situations that they encounter and their pay should reflect that.
"The issue at the minute is that staff are almost depending on overtime to pay their bills and it shouldn't be the case. NHS staff who have so much stress to put with in their lives, they deserve to take home decent pay, to be able to take their children on a holiday and to do all the things that the politicians can do.
"I've been in the ambulance service for 27 years and over the last 10 to 12 years with all the cuts that have been imposed, there has probably never been a good time to go on strike.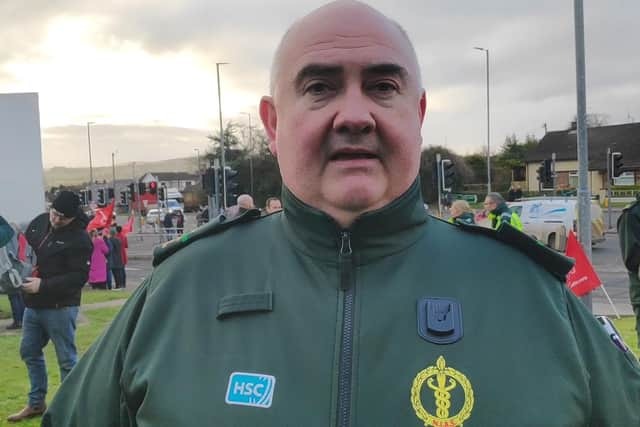 "The difference is that we have been absorbing that and we just feel it's time that we have to stand up for ourselves. How far does it go? How many more cuts? How much more cost of living crisis can we endure?
"The answer is we can't let that go on. We have to stand up for ourselves. We have no one else to stand up for us. You can hear behind us the amount of public support that we have. The government of course will say that it's not a good time, but it's never a good time.
"Every winter we have winter pressures and we have ambulances queued, and they haven't done anything about it. The government is only interested in safe staffing numbers when it comes to us asking for a decent and equitable pay rise.
"They weren't interested in safe staffing levels when we were all struggling through the pandemic, and we were all struggling every winter where I've been here for the last 10 years."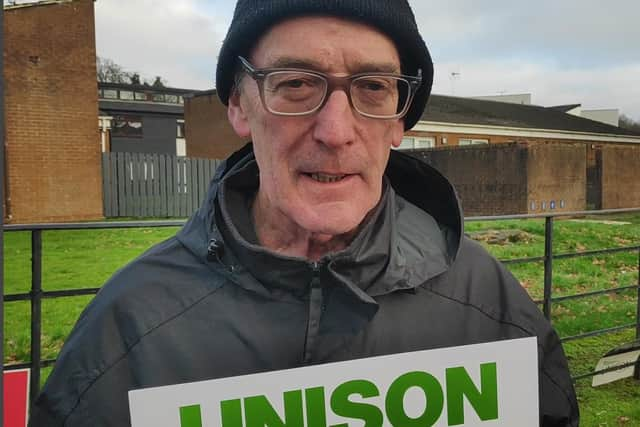 John Wray, a support services worker at Altnagelvin Hospital, said: "We want a pay rise. We didn't get one last year and we want a decent pay rise. Everybody applauded us during COVID-19. We were really essential people but now we just seem to be cast aside.
"The NHS has been in a bad crisis - and the government refuses to use the word - for the last 10 years. Us being on strike hasn't added to that crisis. The unions have covered the essential cover to care for the patients because this isn't just about wages, this is about patient care.
"A health service [that is free] at the point of delivery, looking after the people. Unlike the government, we don't have private health pensions. We have to depend on the NHS, but this is not just about wages. This is about saving the health service from privatisation, saving it for our people."
Carmen Brady-James, a healthcare assistant in the community, said: "They're paying the agency staff a lot of money to come in and cover shifts because we're in dire straits but the nurses that are already here are leaving because they can't sustain their living with the wages that they're paid.
"If they paid the nurses their rightful wages, they wouldn't have to employ bank staff and spend all that money. If they can afford the agency staff, surely they can afford to pay their own staff."
John Quinn, a nursing assistant in Carnhill Hospital in adult mental health, said: "I'm on strike to get a better pay rise because we haven't had a pay rise in the last ten years. The cost of living hike has made things worse.
"The Tory government is digging their heels in so we have to make a stand on it. I think we should look to unite all the people from all the different strikes in England and Northern Ireland, and I think that would cause a total lockdown and force their hand."
Anne Marie McCallion, who works in the Hospital Sterilisation Disinfection Unit (HSDU) and is involved in the sterilisation of medical instruments, said: "We're on strike for better pay, to keep up with inflation.
"With the job we're in, it is specialised, so we can't just bring someone in off the street. We can't be replaced just the next day. We shouldn't have to be on strike at all, it should never have come to this. I am worried it might go on for a while, for the patients, because we could see surgeries start to be cancelled. They are suffering, along with us, so we have to hope this is resolved."