Retro: Free Presbyterian Minister lambasts gay pride - from the June 1995 Derry Journal archive
The Free Presbyterian Church in Derry this week launched a scathing attack on the Gay Pride Festival which commences in the city tomorrow evening.
By Staff Reporter
Published 16th Jun 2020, 11:48 BST- 2 min read
Updated 16th Jun 2020, 11:50 BST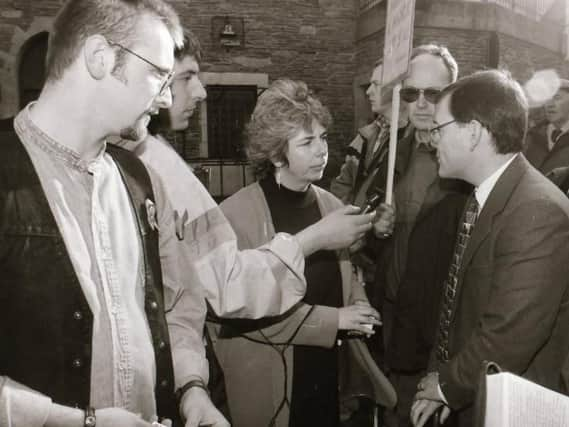 A Church spokesperson, Rev. Ian Browne, said it was both "sad and lamentable" to learn that a "homosexual festival" was to be convened in the city and that property belonging to the city council "will be used to stage an event of this nature."
The Free Presbyterian Minister plans to stage a protest at tomorrow night's official launch of the festival.
The organisers dismissed the planned protests.
World mourns Rory Gallagher
The music world was in mourning yesterday following the death of one of its best-loved blues guitarists, Donegal-born Rory Gallagher.
Forty-seven-year-old Gallagher, who was born in Ballyshannon and reared in Cork, died in a London hospital on Wednesday night, June 14, from a liver disorder. He had recently undergone a liver transplant operation at King's College Hospital in London.
Having started out in music with the Fontana Showband while still a teenager, he went on to form the blues trio 'Taste' in the 1960s before going solo in the 1970s and earning worldwide recognition.
Minister lambasts gay pride
It's a dog's life when you're 140!
Judy is an old bitch - in the nicest possible way! And turning 20 today - or 140 in human years - she's still as chirpy as the day Simpson Galbraith first set eyes on her.
"I got her as a pup from a man in Donemana back in 1975, and I've had her ever since," Simpson, 75, said of the Jack Russell who has become his brown-eyed girl. Nowadays, Judy skips around his Charlotte Street home, Derry, as if she owns it and has cultivated somewhat finicky eating and TV viewing habits.
"She's very fond of ginger snaps and jaffa cakes and also likes lamb and liver," said Simpson.