Councillors hail 'role model' James McClean as he gets set to captain Ireland on 100th cap
Councillors have paid tribute to James McClean ahead of his 100th cap on Monday when the Derry man will captain Ireland against Gibraltar.
Watch more of our videos on Shots! 
and live on Freeview channel 276
Visit Shots! now
Shaun Harkin, Chair of the Council's Audit, Assurance and Risk Committee, said he hoped the Mayor, Councillor Patricia Logue, will be able to organise a special civic reception for the 34-year-old Creggan native.
"As people know James McClean is going to make his 100th appearance for Ireland, the Republic of Ireland tonight. I think it is a huge achievement to win 100 caps and I think that we as a council should acknowledge this achievement by James," he said.
Colr. Harkin, who is best known as a People Before Profit Councillor, was a talented footballer in his day and signed forms for West Ham United in the late 1980s.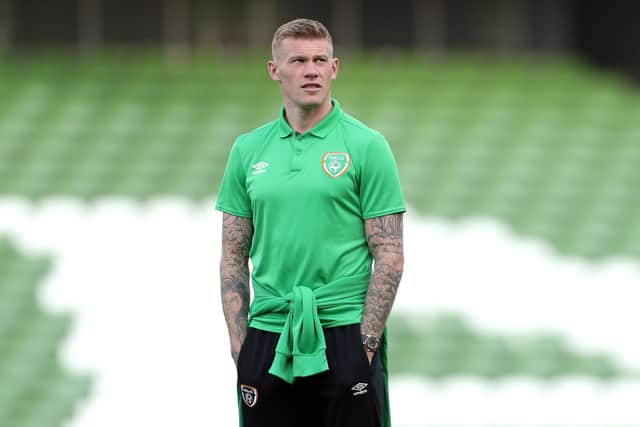 He told the committee how he has looked on James' career with pride.
"I mean, in another life, I wish this was me. I would have loved to have been a professional footballer. I would have loved to have played 100 games for Ireland and we know that James is in many ways a great model for people here in Derry, people across the island and people internationally," said Colr. Harkin.
The Ireland winger's service with local clubs prior to his successful career in Britain were also acknowledged.
"He has played for Trojans. He has played for Institute FC. He has played for Derry. I think people should be proud of James' achievement and it is great that he is going to captain the team tonight."
Colr. Harkin proposed that the Council write to James to formally acknowledge his achievement and for a civic recognition event to be organised.
Sinn Féin Colr. Christopher Jackson said he completely endorsed the proposal.
He praised James for his sporting achievement but also for his defiance in the face of the many episodes of anti-Irish and sectarian abuse he has endured in football grounds in England and online.
"James has been a fantastic ambassador for this city for many, many years. He has faced down sectarianism and abuse in a very public manner and I would like to commend the great strength that James has shown throughout all of that.
"You have highlighted the fact that James is representing the Republic of Ireland tonight and captaining our country on the occasion where he has achieved 100 caps. That is something that doesn't happen very often and it is something we should all be tremendously proud of.
"We all are tremendously proud of James and I have no doubt that the mayor will accommodate a civic reception of some sort to acknowledge the massive contribution that James has played, not only for sport but for standing up for people in this part of the world," said Colr. Jackson.
SDLP Councillor Shauna Cusack said: "I don't know much about sport but I do know of James' achievements and how incredibly proud the city and his family must be as well as himself. Knowing of him and knowing the humble kind of person he is I'm sure he wouldn't be thinking that way about himself."
UUP Alderman Ryan McCready said he wanted to 'absolutely fully endorse' Colr. Harkin's remarks.