DERRY JOURNAL Editorial: United through a year lived apart
It's a milestone none of us wanted to reach but here we are, one year on from the first lockdown still somewhat in limbo. Thinking back to March 2020 it seems like a life-time ago. So much has happened, and yet so much in our lives has been cancelled out. And here were are again on the eve of a second St Patrick's Day that will pass without crowds on the streets, parades, with no struggling to navigate through a sea of green in a rowdy, packed pub full of people cheering on the Ireland squad. It's hard to take in everything that has happened since, all the changes, the merry-go-round of lockdowns, restrictions, easings and add ons.
Wednesday, 17th March 2021, 7:58 am
Our own office, like so many other local facilities and businesses has been closed temporarily now for a year and we, like so many others, have had to navigate working from home, while those on the frontlines never had that option. Others still have spent the year on furlough, some wondering what the future will hold.
At the time, we committed to keeping everyone informed of developments, to provide accurate accounts of what was going on on the ground in the north west, and championing the true heroes of this pandemic - the people who have gone above and beyond in our care homes and hospitals, our shops, our services; the people who rallied to provide for the communities they operate in; the artists, musicians and sporting heroes who have kept us entertained. In doing this, we ourselves have been deeply touched by the tributes, the inspirational stories, the efforts of this community to come together and provide a ring of steel around those most at risk. As one community worker remarked in this paper last week, God knows where we would be if that hadn't happened. We should all of us be very proud of the way our society has acted during a crisis like no other, one we couldn't really prepare for and one we are still living through.
We can only hope that by next year the shamrocks will be pinned on and dance troupes raring to go for the parades. Till then, all we can do is wish everyone a very happy and a very safe St Patrick's Day.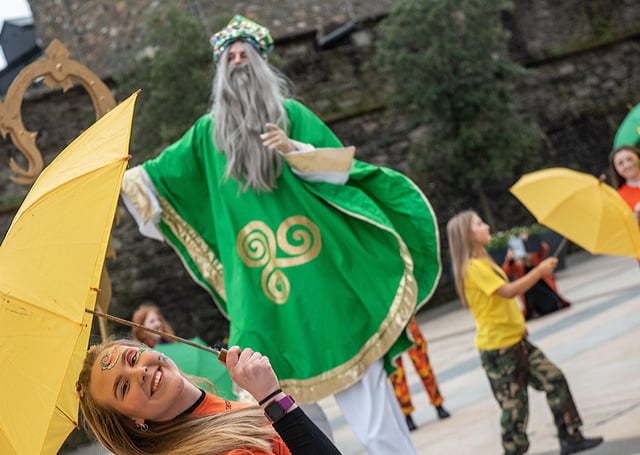 Dancers from Derryâ€TMs Studio 2 who are performing a socially distanced dance as they create a video to mark St.Patrickâ€TMs Day as Derry City and Strabane District Council mark the annual event virtually. Picture Martin McKeown. 16.03.21