OPINION: Derry - Dublin flight essential to North West
Sinn Féin Foyle MLA Pádraig Delargy here re-emphasises the need for a Derry - Dublin flight and for all Ireland funding for City of Derry Airport. He is speaking here after calls for funding of the Derry airport were also made in Dáil Éireann by his party colleagues. Mr Delargy and party colleagues, including fellow Foyle MLA Ciara Ferguson and Donegal TD Pádraig MacLochlainn recently met City of Derry Airport representatives on a visit to the Eglinton facility.
Published 22nd May 2023, 11:26 BST

- 2 min read
Meeting with businesses both locally and internationally we have continued to hear that a Derry - Dublin flight would be transformative for trade in this region.
Both in terms of attracting investment and opening more direct transport links to and from this region, so it is imperative that a Derry - Dublin flight is restored.
Improving connections to the north west benefits everyone. We need collective thinking and an all-Ireland approach to make this region work for everyone.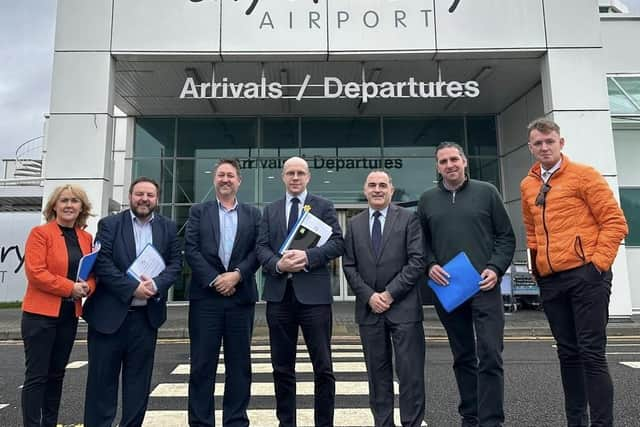 The Irish Government needs to do more to invest in the north west. In the north, we need an Executive formed now to deliver the change that people need and a new economic vision that is focused on creating jobs and helping to strengthen the local economy here in the north west.
Sinn Féin TD for Donegal Pádraig MacLochlainn has also challenged the Dublin government to do more to invest in the north west.
It is now over a decade since the Irish government removed funding for the Derry to Dublin air link. Sinn Féin has repeatedly called on government after government since to reinstate the funding for this important service to reflect the fact that 40% of the passengers using the City of Derry Airport every year, are from Donegal.
But also, to boost tourism and job creation in our region with flights able to connect from around the world into Dublin airport and on to Derry Airport and vice versa. Micheál Martin's words in the Dáil on Thursday were encouraging but we need action. The Tánaiste must now end the prevarication and ensure that the Derry to Dublin air link is reinstated as soon as possible and funded by his government.