Colum Eastwood welcomes 'Windsor Framework' while expressing 'some concern' over 'Stormont brake'
Colum Eastwood has welcomed the agreement of the 'Windsor Framework' while admitting some concern around the 'Stormont brake' mechanism.
Published 28th Feb 2023, 10:02 BST

- 2 min read
Updated 28th Feb 2023, 10:02 BST
The SDLP leader said the joint announcement of the deal which eliminates red-tape on goods between Britain and the North and proposes a 'Stormont brake' that can be pulled if there is cross-party support for blocking EU law, was a positive development after 'an awful lot of talk'.
He urged British Prime Minister Rishi Sunak to promote the North's unique access to both the EU Single Market and the UK internal market which existed under the original Brexit Withdrawal Agreement and Protocol and which will continue under the amended version of the Windsor Framework if it is approved as expected.
"Although we have some concerns, particularly on the Stormont brake—we will study the detail of this as we go—we are happy that things seem to have moved today.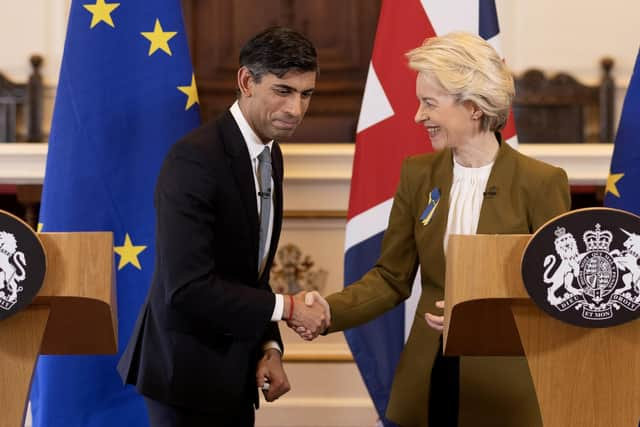 "There has been an awful lot of talk, particularly today and in recent months, about the concerns of the DUP and the Unionist community. It is important to remember that the majority of people in NI opposed Brexit and want to see the benefits of dual market access properly utilised.
"Does the Prime Minister agree it is important that his Government now support that dual market access and promote it to international investors?" asked the Foyle MP.
Mr. Sunak replied: "He is right: there is a balance to be struck, and the Good Friday Agreement is about respecting that balance—it is about the aspirations and identities of all communities in NI.
"That is what we have sought to achieve with the Windsor Framework. As I outlined, something we have heard loud and clear from businesses in Northern Ireland is that they value their access to the single market and they value, as all of us do, not having a hard border between NI and the Republic."
The British Prime Minister claimed the new agreement can garner cross-party support.
"That is something we have had to bear in mind as we considered these negotiations, but I believe we have struck the right balance and the framework means that this agreement can command the support and consent of communities right across the spectrum in NI. I look forward to working with him and his party to deliver it," he stated.