Eastwood attacks DUP for Stormont boycott as people die, emigrate and schools budget is 'cut to ribbons'
Colum Eastwood has attacked the DUP for not forming an Executive while 'people are dying in their homes', 'emigrating daily' and the schools budget is 'being cut to ribbons'.
Watch more of our videos on Shots! 
and live on Freeview channel 276
Visit Shots! now
There were angry exchanges between the SDLP leader and his DUP counterpart Jeffrey Donaldson at Westminster during the second reading of the NI Budget Bill.
"We would not be where we are today were it not for the actions of the DUP. And where are we? We have people dying in their homes because ambulances are not coming in time. We have people on trolleys for over 24 hours in every hospital in NI.
"We have an Education Department that is being cut to ribbons by this Budget. We have people from my constituency emigrating every day because they cannot find work. Will that all be solved by the Executive in the morning?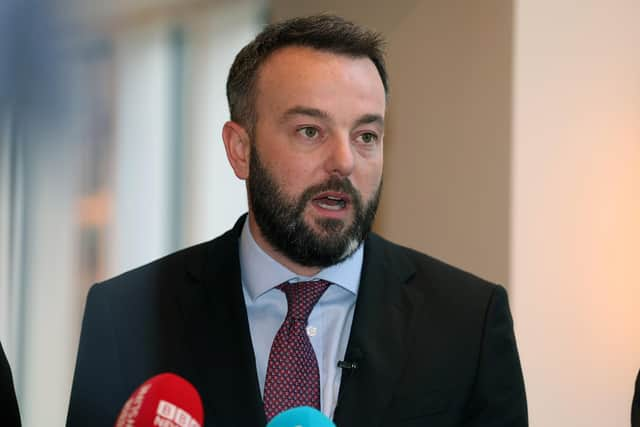 "No, it will not, but it is our job to try. That is the whole point of representative democracy. That is the whole point of devolution," he said.
Mr. Donaldson, responding to Mr. Eastwood, raised the SDLP's refusal to take its seats under the old majoritarian Stormont.
"The hon. Member consistently attacks the DUP, but might I remind him about the history of his own party? When people were dying on the streets of Northern Ireland in their thousands, his party refused to take its seats at Stormont and participate in a functioning Assembly for very many years.
"He will argue there were valid reasons for that, but he should at least respect that if we are going to sort out our problems in Northern Ireland, Unionists also have an entitlement and a right to have valid reasons not to participate in institutions when they feel that their rights have been undermined and diminished," said the Lagan Valley MP.
This drew an incredulous response from Mr. Eastwood, who stated: "That is astonishing, given the fact that we had the Sunningdale agreement, where we had people working in those institutions.
"They were brought down, frankly, by people associated with the right hon. Gentleman's political party and other Unionists. That accusation thrown at the SDLP for not wanting to make institutions work is coming from someone who walked away in the dying hours of the negotiations to bring about the Good Friday agreement."