Willie Hay blasts Boris Johnson for 'splitting UK' in rush to 'get Brexit done', cites 'total lack of trust' in British Government
Willie Hay has claimed Boris Johnson 'split the United Kingdom 'by introducing a 'border in the Irish Sea' in his eagerness to 'get Brexit done'.
Watch more of our videos on Shots! 
and live on Freeview channel 276
Visit Shots! now
The DUP peer has further argued that there is 'a total lack of trust in this Government' in the North over its handling of the Brexit Withdrawal Agreement and Protocol which was recently updated by the current British Prime Minister Rishi Sunak by way of the 'Windsor Framework'.
"It gives me no pleasure to say that, in getting Brexit done, Boris Johnson split the UK by agreeing a border down the Irish Sea. This was a Conservative and Unionist Prime Minister, who knew exactly what he was doing.
"To add insult to injury, after telling the people of NI that having a border down the Irish Sea would be over his dead body, Boris Johnson came back to NI and, when the business community asked him what they would do with the mountain of paperwork, do you know what he said? He said bin it or send it to him.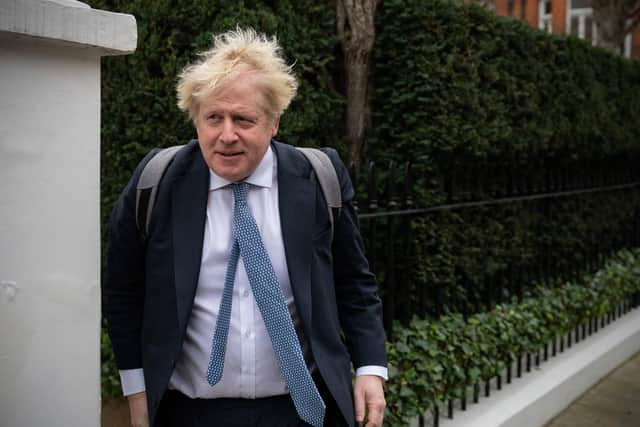 "Then we had the Secretary of State, Brandon Lewis, telling the people of NI that there was not a border down the Irish Sea—in fact, he said that he could not see one. How ridiculous the whole situation has got in NI.
"What has happened in NI is that there is a total lack of trust in this Government. That is the issue."
The former Derry mayor was speaking during a debate on the Windsor Framework in the British House of Lords where he sits as a cross-bench peer.
He was also critical of the DUP's rival parties in the North for calling for the full implementation of the Brexit Withdrawal Agreement Protocol.
"After all that has happened with former Prime Ministers and Secretaries of State, there is, unfortunately, a total breakdown of trust around how we move forward.
"Then of course we had the leader of the SDLP out; we had Naomi Long out; and we had Michelle O'Neill telling the Government to fully implement a protocol that was destroying the economic life of Northern Ireland, as if unionist concerns did not exist," he stated.
The erstwhile speaker of the Stormont Assembly, who takes the title Lord Hay of Ballyore, said 'trust needs to be built again between all the parties in NI' and that 'power-sharing works only with consent across the community'.
He argued that the Protocol has 'not been dealt with by the Windsor Framework, which makes only limited legal changes to it' and that 'UK law is now secondary in a vast swathe of areas where EU law is supreme'.
"The text of the Windsor Framework is clear that full customs formalities will remain for many businesses importing goods from mainland Great Britain.
"The so-called green lane is available for only a limited number of goods considered to be not at risk. Businesses in Northern Ireland will be denied the benefits of new non-EU UK law that is applied in Great Britain. Post-Brexit, they will face in their own home market competition from goods supplied by mainland businesses that comply with UK rules," he stated.