Derry City legend Mark Farren and FAI Cup final hero prove inspiration for baby Jamie
Choosing a name for your first born child is a huge deal for new parents and inspiration can be found in many sources; parents, grandparents, aunts, uncles, famous figures and, er, FAI Cup finals!
Watch more of our videos on Shots! 
and live on Freeview channel 276
Visit Shots! now
Yep, you're read that correct, FAI Cup finals; or more precisely, Derry City's 2022 FAI Cup final success.​
The scenes in the Aviva last November will live long in the minds of everyone present and also one special little man who has never set foot in the Dublin Stadium.
Introducing Master Jamie Mark McGrath, thus named by his Derry City fanatic mother, Caoimhe, after City's leading marksman Jamie McGonigle who literally a joke from her dad, Stephen McCallion, to name her first born after Derry's opening goalscorer in the final.
Challenge accepted, Caoimhe even went as far as choosing her son's middle name after the Brandywell club's all time leading goalscorer, Mark Farren!
Young Jamie was born on December 4th 2022, exactly one month premature and weighing only 3lbs 12oz. Thankfully by Christmas, he was home with mum Caoimhe and father, Shaun McGrath and proving better than any present Santa could brought.
Caoimhe, who has been a City supporter for as long as she can remember, admits the decision on both names came during November's memorable success over Shelbourne and was thanks largely to her father, Stephen's devotion to the club.
She also confirmed because Terri-Louise Farren was sitting a few rows in front of her and as McGonigle's opening goal came on 18 minutes - the number Farren wore with such distinction at Derry - she decided Mark would be a perfect middle name for her new baby if it was a boy.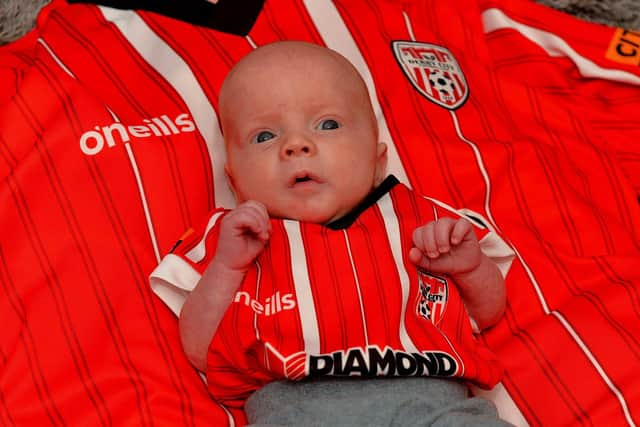 "Just before the cup final started we were sitting and my daddy turned around and said, 'Whoever scores first, you're going to have the name the baby after him, if it's a boy.' I just laughed because I didn't know what I was having at that stage, so I joked back, 'Ah right okay'," smiled Caoimhe.
"Then, when he was born and was in the incubator in the neonatal unit, we had about six names on a shortlist that we had wanted and Jamie wasn't on the list at all. However, once we were going through the list we decided that none of these names suited him and I said to Shaun, 'We forgot about Jamie? We both agreed it was perfect.
"Terri was sitting in front of us and it was planned that everyone was going to sing, 'There's only one Mark Farren' in the 18th minute but that's the time Jamie scored. Terri was in tears in front of us when my daddy told her to check the score-board for the time of the goal and, to be honest, that's how Jamie got Mark as his middle name. Both names were because of the cup final."
Caoimhe's dad, Stephen McCallion, laughs that Jamie's father, Shaun, a Strabane man, has only really tested what it's like to be a Derry supporter.
"Shaun only started to go to the Brandywell last season and to be honest it wasn't a bad season to start," she joked, "He was even saying maybe if James Akintunde scores then 'Akintunde' would be a cool name but that was never going to happen, especially now that James has gone to Bohemians!"
Once the season gets up and running, the Dungiven McGonigle has confirmed that he'll be making a trip to visit his namesake when he's expected to bring both the FAI Cup and President's Cup.
"Karen Pyne sent him a picture when our Jamie was born and he sent us a wee video congratulating us," confirmed Caoimhe. "I recently put a wee picture of Jamie in his wee Derry top on social media and Jamie McGonigle sent us another message saying he was happy that young Jamie was doing well.
"Once everything settles down, Jamie is going to try and come to the house to get a picture with young Jamie but we haven't organised anything concrete just yet."
Caoimhe says she can't wait to get back to the Brandywell this season and, more importantly, start bringing young Jamie on a regular basis. Indeed she knows that if she can't take him, proud grandfather Stephen will be stepping up and taking Jamie to the Brandywell, something Caoimhe says her father can't wait to do.
"I have been a Derry City fan for as long as I can remember," she added. "I was a mascot in the 2006 FAI Cup Final and 17 years later I'm naming my first child after Derry City players because of another cup final.
"I would be at every home game and whatever away match I could get to but even getting to the Brandywell now will be less straight forward for me, well at least until Jamie gets a bit older and then we'll be all going again as a family."