Derry City's Conor Loughrey excited to be back in the dug-out
First team coach Conor Loughrey says his role at Derry City really hasn't changed over recent seasons, but admits he's excited to be back in the thick of things in the dug-out.
Published 22nd Feb 2023, 14:10 BST

- 4 min read
Loughrey, who last season was City's opposition analyst, is now back standing alongside boss Ruaidhrí Higgins and his assistant Alan Reynolds on match nights.
"It's probably less change in terms of day-to-day work than it would seem. If anything we've probably got a bit of continuity for the first time in a season or two in terms of our day-to-day work," he explained.
"I suppose match days are now a bit of a change for me because last season I missed a lot of big moments being away watching other teams. I remember leaving Richmond Park after watching St. Pat's, I crossed the road and Jamie (McGonigle) had scored the last minute winner against (Shamrock) Rovers, so I missed big moments at the Brandywell throughout last season but hopefully I'm here for the big moments this season.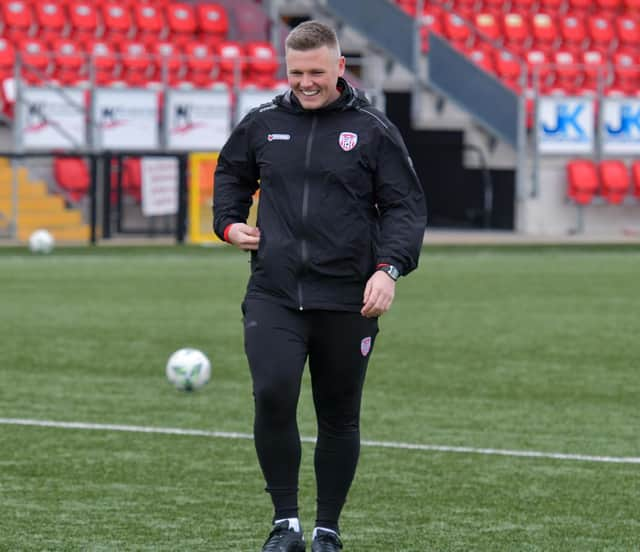 "Since Ruaidhrí got in, my day-to-day work was always as a first team coach. The big difference this season is going to be actually being there on match nights in the dug-out. That said, near the end of last season I was in and out of there anyway during the times I wasn't away at other games.
"I probably spent more time in the dug-out than I did in the stands as the season progressed so it's a natural enough progression. Look, I'm delighted that Ruaidhrí has enough trust in me to keep me there beside him and Rennie (Alan Reynolds). I'm always learning and I'll always give an opinion as well. I don't always know how that always goes down, but they get an opinion one way or another."
The former Northern Ireland underage coach believes the Brandywell club has a nice mix of youth and experience in the dressing room and says the desire and will to win is very much evident throughout the squad.
"We've an experienced dug-out and even when you go down to the players, there's a lot of experience there and different types of experience in our dressing room," he insisted.
"For instance, Mark Connolly has had a long career at a really good level. Patrick (McEleney) and Michael (Duffy) are a bit younger and they've had different careers in terms of being more Irish based careers which have brought a lot more trophies.
"Then, alongside that, we've ambitious players in our dressing room as well who have a real good age profile. The thing we do have in the dressing room is, yes, experience, but also a lot of hunger and a lot of desire.
"I think especially as the season went on last year and with how it finished with the FAI Cup, we got a taste and we want more and that's consistent throughout our staff and our players.
"Everybody has experienced that and we've a good age profile both in our staff and players. We're all pushing and going in the one direction so hopefully that's something that can stand us in good stead a lot more."
In previous years teams who have won the FAI Cup have often gone on to claim the Premier Division title and Loughrey hopes that will happen to Higgins' side.
"That's on us. I suppose if you go through any league in the world, maybe bar a Celtic, who had a long spell of nine years in a row winning league after league, but everybody else has their time and everybody's time ends at some point as well. Look, the onus is on us to break that," he said.
"Shamrock Rovers have been consistent over the last number of years. They have a very experienced squad but it's on us and, as I said, we're hungry and we'll be doing all that we can.
"All we can do is look after ourselves. We'll be trying to win as many matches as we possibly can and then see where that takes us."
Elevated to the first-team coaching staff under Declan Devine in 2021, Loughrey has seen a lot of change at the club in two seasons.
"Without doubt things have changed and even for myself, I've been here six games into the season and sitting with two points. That was some experience but even how the squad has evolved over the last few years right up until last summer's transfer window," he explained.
"We weren't consistent enough in the first half of last season. We probably hadn't the players to be consistent but I think if you look at us now, some of the lads who have came in during last summer's window, the likes Ryan Graydon, Cian Kavanagh, Mark Connolly and Sadou (Diallo), they only thing they know is that great run we were on during the second half of last season.
"After the Shelbourne match here in the league last year, those last two or three games were a bit of a write off because everybody's eyes were on the cup so, look, we have been consistent since we've had this squad and that's the sort of direction we're travelling in."