Institute manager Brian Donaghey feels Ballyclare Comrades Irish Cup tie is 50/50
​Institute boss Brian Donaghey believes Saturday's Samuel Gelston's Whiskey Irish Cup sixth round tie against Ballyclare Comrades is a 50/50 encounter.
Published 2nd Feb 2023, 18:16 BST

- 3 min read
​The tie, which takes place at Brandywell Stadium, sees two sides going into the game out of form in the league.
'Stute have picked up only two points from their last five league games in the Lough 41 Championship, while Comrades have one less from the same amount of matches.
In their previous two meetings this campaign, it's one win apiece with Donaghey's side winning 2-0 in September and in November a late Conall Curran goal sealed the points for the Dixon Park men.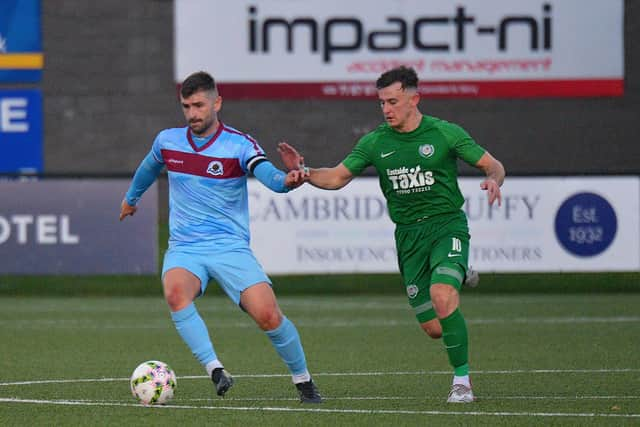 With all this in mind, Donaghey is expecting another close encounter on Saturday afternoon.
"Look, to be honest it's a 50/50 tie," insisted the 'Stute boss.
"The cup is a welcomed break from the league, I'm not going to lie about that. Our league form has been poor of late but someone was saying the other day that only nine points separate the bottom seven teams in the table.
"We've had a lot of draws and they're piling up. Sometimes you're better losing a few and winning a couple rather than having a lot of drawn games but we're looking forward to the Ballyclare game on Saturday."
If the Drumahoe club can secure a victory, it will be the first time they've progressed to the quarter-finals since John Gregg guided 'Stute to an Irish Cup semi-final way back in 2009.
"We've a chance of reaching the Irish Cup quarter-final and I don't think there are too many of our lads who have played at that stage, so hopefully we can do it," added Donaghey.
"The Irish Cup is something that I've had a lot of history with. It has been very good to me in the past and also heart breaking in quite a few ways as well.
"We talked this week about the Irish Cup and what it means to everyone at the club so hopefully we can get them up for it and ready to go.
"To be honest the boys were excellent on Tuesday night at training but, listen, the Irish Cup is the showpiece competition in our calendar. You could see what the FAI Cup did to Derry City and you can see the momentum they've got and the feel good factor around the city.
"I would love to get to a quarter-final but if we do then we have had to do it the hard way because Ballyclare a good side. The other night they were very, very good against the league leaders Loughgall and lost 2-1 late-on. I was impressed by them.
"The games we've had against them since I've come onboard, I think we've won three, lost one and drew one against Ballyclare, and our records in terms of the league table is we're three points behind them with a match in hand.
"Our goal difference in terms of goals scored and goals conceded is very similar so, look, everything is leading to a very, very tight encounter but hopefully our home form and home advantage can sway it in our favour.
"Although it's definitely a winnable tie for both teams but hopefully we come out the right end of the result."