Richard McCarter believes fine form can help City of Derry "attack" next season
​Richard McCarter believes his side's fine finish to the end of their league campaign will leave them well prepared to "attack" the division next season.
Published 8th Feb 2023, 18:00 BST

- 3 min read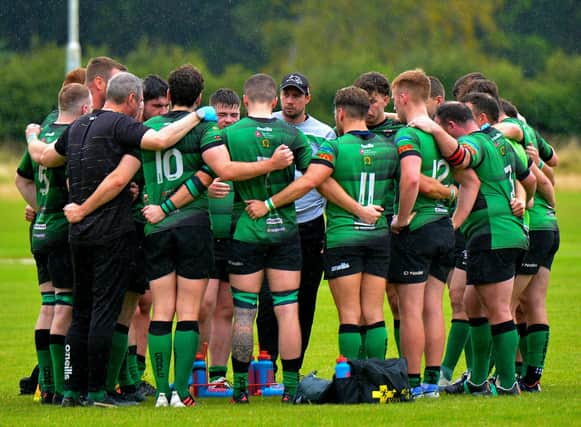 Tuesday's 38-0 victory over Grosvenor at Foyle College made it six wins from their last nine games over the second half of the season, form that has been enough to take McCarter's team up to fifth which may yet be enough to secure a place in the All Ireland Cup for next season.
Indeed it could have been much better but for a start to the season that saw Derry lose three of their opening four league games but the Derry coached said it was always going to take time acclimatising after relegation.
"It is a learning curve this year for us and we will go into next year far better equipped," explained McCarter, "We'll not have that slow start I wouldn't like to think. We've shown what we are capable of and now that we have a bit of a feel for the league we can really attack it next year.
"We will be better for this season.We were never going to just drop down and start hammering teams week in, week. Our own confidence has taken a battering over the past few seasons, not just last year, and the relegation really affected everybody.
"It was always going to take time. I think we were always going to have a bit of a hangover but once we got into our rhythm, we've been pretty good for the last couple of months of the season."
Killene Thornton was the Derry talisman on Wednesday, helping himself to a superb hat-trick of tries from full-back with David Lapsley, Cathal Cregan and Stephen Corr also crossing the whitewash in an emphatic display.
"We got out of the game what we needed to," added the Derry coach, "It was important to back up Saturday's win. We had targeted 10 points in these two home games and probably got off to a bit of a slow start to be fair but we came into the game more at the end of the first half and the second half was quite comfortable.
"Grosvenor had the better of the first half. They had a very good kicking game and their out-half kicked very well. We came in the game more when we started to put them through phases, make them make tackles and then the score before half-time we really crucial for us."
Derry finish their league campaign with a tip to CYMS in two weeks but McCarter is anxious his side carry their good recent form into the end of season league cup.#
"Yeah, we go to Belfast next week and it would be nice to finish with a win because we want to finish in that fifth spot because should either Clogher or Ballyclare get promoted then that opens up the All Ireland Junior Cup to us and that's been a target for this season, so if fifth gets us there, we'll take it.
"It's important that we take this end of season form into the cup as well because there will be new teams we'll be playing who we will be unfamiliar with but they will be unfamiliar with us as well. We have some great attacking options there and hopefully the boys take some confidence from that display."