When Derry City's Jamie McGonigle met master Jamie Mark McGrath
Derry City's FAI Cup Final goalscoring hero Jamie McGonigle finally met master Jamie Mark McGrath last week.
Published 1st Mar 2023, 16:22 BST

- 1 min read
Young McGrath with his mother Caoimhe McCallion and father Shaun McGrath visited the Ryan McBride Brandywell Stadium and the Dungiven man was introduced to young Jamie, who he was named after.
McGonigle admitted he was delighted to finally meet Jamie and hopes in the not too distant future to visit the family and bring the President's Cup with him.
"To be honest it was a bit surreal to find out that a new born baby was named after me," he stated.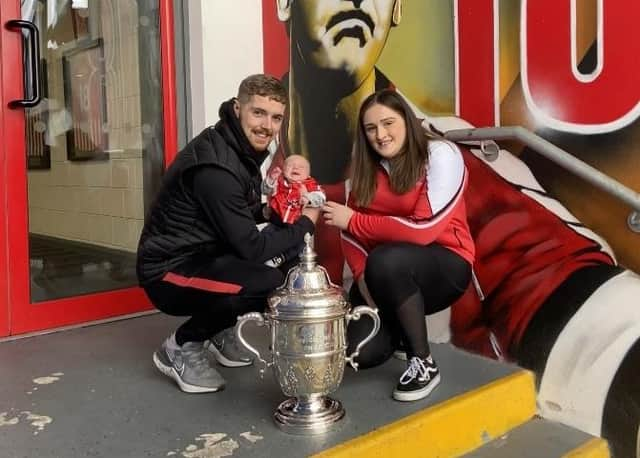 "The way I found out was during a Brandywell Pride Supporters Club awards night, Caoimhe's father told me about it, but I took it as a joke, then Karen Pyne texted me a few weeks later to say that baby Jamie was born and then I knew it was a real thing.
"Obviously there were a few messages back and forth after he was born, but it was lovely to finally meet baby Jamie and the family.
"We were supposed to have the President's Cup alongside the FAI Cup during their visit last week, but it was away, but hopefully I'll get up to their house with both cups and have a proper chat and spend a bit more time with them, because last week was only a quick meet up."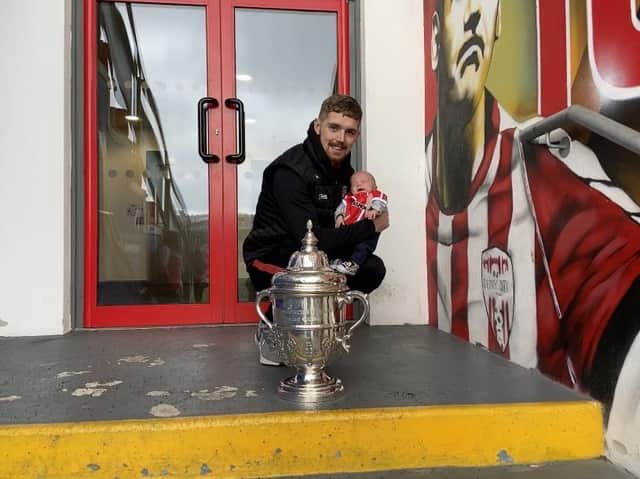 Young Jamie, who was carried out on to the Brandywell pitch by McGonigle during last week's visit, was born on December 4th 2022, exactly one month premature and weighing only 3lbs 12oz. Thankfully by Christmas, he was home with mum Caoimhe and father, Shaun.