Liverpool fan McCarter tips cap to Man United's Erik ten Hag after City of Derry defeat Cooke
You know something's afoot at Judges Road when Richard McCarter is quoting Manchester United manager, Erik ten Hag, after a match.
Published 7th Jan 2023, 19:37 BST

- 3 min read
It's putting it politely to say ardent Liverpool fan McCarter is no fan of the Reds' great Mancunian rivals. The Red Devils are not a topic the City of Derry Head Coach often likes to discuss so when the Dutch manager, who has guided United to four successive Premier League victories, is McCarter's point of reference, then things have either gone very right..... or very wrong.
Happily for McCarter and his fast improving Derry side it was the former, after Saturday's impressive 25-8 victory over third placed Cooke prompted the unlikeliest of name drops. Tries from David Lapsley, Simon Logue and Cathal Cregan were the foundation for a victory missing only a bonus point to make it complete and it had the Derry coach turning the United's 3-1 FA Cup defeat of Everton on Friday night to explain a transformation that has seen Derry win six of their last eight games.
"We spoke before the game and said Clogher Valley and Ballyclare are the two top teams," explained McCarter, "The results this season have shown that, their league position also shows it but we know we are capable of beating anyone else in this division if get our attitude right.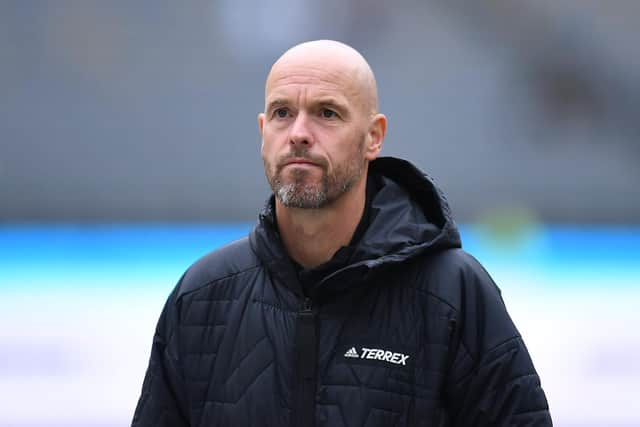 "To use - and I can't believe I'm saying this - but to use an Erik ten Hag quote from last night, everything starts with attitude. Our attitude today was bang on and it has been recently. That makes it six wins from the last eight league games so we are going in the right direction."
After winning the toss and deciding to play against the strong Judges Road breeze, Derry produced some superb rugby to turn around with a 15-3 lead. The home side went on to dominate the second with the only frustration the failure to grab a fourth, bonus point securing try.
"I'm really, really pleased, " added the Derry coach, "I think the only slight blot on the copy book if we are being completely honest is that we didn't go on and get the bonus point considering we had three tries after only five minutes of the second half . That said, had you given me that result and performance before the game I would have taken it wholeheartedly.
"We said before the game that this was the strongest squad we've had available this season and it showed. We were really disciplined, we were accurate, we didn't really give Cooke a sniff. They had to wait until the 82nd minute to get their only try in the game so I really could not have asked for more from the players."
"(The wind) was tricky. It was one of those one that, before the game, you decide what to do if you win the toss, whether to play into it or not. We won the toss and decided to back ourselves and it proved the right decision. We were 15-3 up at half-time and that gave us massive confidence going into the second half.
"That's what it is about. We did the hard yards in the first half and got the lead. We knew the wind wouldn't win the game for us in the second half but we knew it would make it very difficult for Cooke and we kicked superbly. Alex (McDonnell) and Jamie (Millar) both kicked very, very well and kept Cooke pinned back. We trusted our defence that Cooke were never going to go 60 or 70 metres."
Pivotal to Derry's performance was their set-pieces with Tiernan Thornton in the line-out especially impressive as Derry produced some second half moves that deserved better finishes than they got.
"It's (the line-out) been an Achilles' heel for us this season, there's no doubt about it but today 80 per cent of it was excellent and, again, that was in tricky conditions.
"Yeah, there was a couple of times in the second half that had we score then it would have been up there for 'Try of the Season'," laughed McCarter, "There was one in particular where, I think, Jamie Millar got involved in the same phase of play three times as we kept he ball alive. That's where the confidence comes from.
"The boys were saying the right things, doing the right things and we knew from early in the second half that the game as a contest was over and it's a really nice position to be in. As I said, It is just a pity we could get that fourth try."