Season's best City of Derry see of Cooke in style at Judges Road
Kukri Ulster Qualifying League, Division One
Published 7th Jan 2023, 17:47 BST

- 3 min read
Updated 7th Jan 2023, 19:28 BST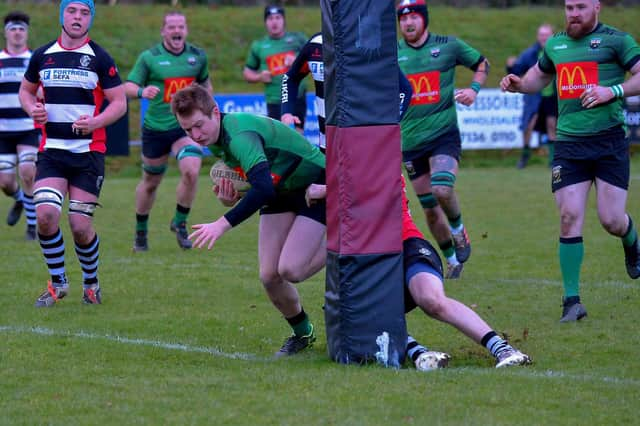 It was season's best time at Judges Road on Saturday as City of Derry produced a superb display to see off third placed Cooke in some style.
If there is a rugby equivalent of 'total football', Derry seemed intent on producing it at times in a second half display in which the home side brilliantly used the the wind to pin the Belfast side back and wrap up the points relatively early on. The only downside? Well, 25-3 up and cruising five minutes into the second half, there was a bonus point there for the taking and Richard McCarter's men had plenty of opportunities to secure it. That they didn't was a frustration, but only because they fully deserved it as they made it six wins from their last nine games.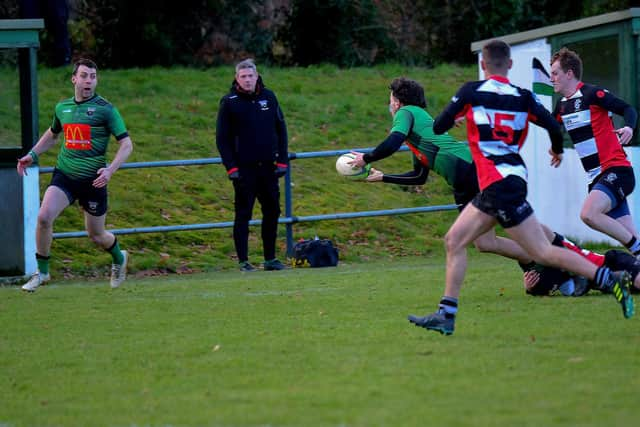 With Tiernan Thornton outstanding in defence, the breakdown and the line-outs, Derry won the pre-match toss but opted to face the almost gale force breeze first half. It was a risky, but inspired decision. From the first whistle Derry were on it, tenacious in the tackle and progressive with their passing but Cooke never fully got to grips with the conditions.
There were early signs of Derry's intent in Stephen Corr's excellent break or a flowing move involving captain Alex McDonnell, Ian Bratton and David Lapsley but for all the decent rugby they produced, Derry had only McDonnell's 16th minute penalty to show for the opening 25 minutes.
Not that they would have been disappointed. Facing into the wind, Derry's game management was excellent and matched by their intensity, a recipe which must have delighted McCarter.
They finally got the reward their start deserved on 25 minutes after turning Cooke over once too many times for the visitors' liking. The ball was immediately switched right which gave David Lapsley to space to crash through the Cooke defence and score close to the posts. With McDonnell converting, Derry had a platform at 10-0.
Cooke got on the scoresheet seven minutes before the break but it is a mark of Derry's desire that Toby Mannus' penalty would be their solitary score until a late Ollie Faith try in injury time.
In between Derry looked a side beginning to believe in themselves after an indifferent start to their season. Another Derry turnover was the catalyst for the home side's second try. With possession secured, first Davy Graham and Ian Bratton had a go down the right before the ball was switched back left where Simon Logue was an ominous man over and Alex McDonnell played the winger in to score for a 15-3 half-time lead.
Three minutes in McDonnell's penalty stretched the lead and two minutes later it got even better with a lovely score started by scrum-half Jamie Millar's outrageously good kick to the corner from his own half. That secured a lien-out close to the Cooke line and once Thornton had secured quick ball, Cathal Cregan crept in on the blindside to score.
The kick looked impossible in the conditions but McDonnell wasn't listening to any weather reports and split the posts from the sideline for 25-3.
The scene was set for a bonus point win and one two occasions Derry were inches away from 'try of the season' contenders but truth be told, they were probably trying too hard with that elusive fifth point so close.
A late yellow card for Cooke's George Rogg failed to boost Derry's chances and David Graham followed the Cooke winger into the referee's notebook. Even a late Cooke try failed to disguise Derry's dominance. With Gerard Doherty and Corr back in the Derry pack and Thornton ruling the skies, the 'Green and Black' set piece was transformed and given good ball, the likes of Millar, Graham, Lapsley, Logue and impressive full back Killene Thornon will cause any side headaches.
The victory is not enough to move Derry out of fifth place and with a trip to leaders Ballyclare to come next week, things won't get any easier but in this sort of form, Derry should fear no side.
City of Derry: Fearghus Canning, Cathal Cregan, Adam Marley, Gerard Doherty, David Brown, Tiernan Thornton, Dara Gill, Stephen Corr, Jamie MilIar, Alex McDonnell, Simon Logue, David Lapsley, David Graham, Ian Bratton, Killene Thornton. (Replacements) Jack Sayers, Cein McColgan.
Cooke: Ethan Sloan, Ben Pentland, Ian Moxen, Callum Foreman, Josh Harper, Stephen Foreman, Ollie Faith, Stuart Flavelle, Andy Hannah, George Rogg, Kyle Mitchell, Jack Knox, Connor Phillips, Andy McMurray. (Replacements) Jonny McClune, Toby Mannus.